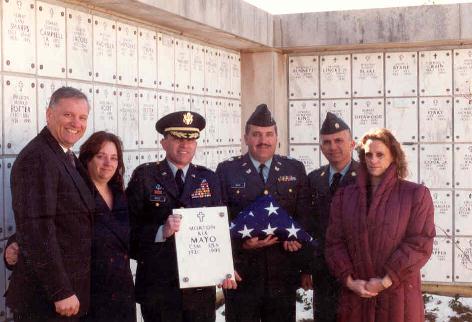 My parents are buried in the Arlington National Cemetery. My Father was a Command Sergeant Major and my Mother a Sergeant. When kids (not knowing my Mother was a veteran) taunted in school they would say, "Your Mother wears combat boots," expecting to pick a fight. I would simply say, "You knew my Mother?"
Here I am with my brothers and sisters. Next to me is Maureen (we call her Mickey). She was a Military Police Woman, one of the first in the Army who was not a WAC. She married a soldier. Her daughter (my niece) went the route my brother and I did attending OCS and becoming an officer. When the interviewers saw the letters sent by my brother and I and her family's military background, they asked her "Why the army?" Duh. Her husband recently returned from Iraq where his tank unit led the assault on Fallujah.
Next to her is Michael.. Mike is a retired Major General. He commanded the largest Army Reserve Command in the United States. Mike and I served in the same unit in Vietnam, although he was an Infantry Platoon leader. On his first tour, Mike was shot and severely wounded. About 2 a.m., our Battalion Executive Officer came and got me to let me know he was involved in an ambush. Mike and I talked on the radio for a short while and then he was hit in the chest, collapsing his lung, and the arm. Medivaced to a M.A.S.H unit, he was laid up for a while before being sent to a VA hospital near Valley Forge to recover. While he was at the M.A.S.H unit, I visited him. He had the prettiest nurse taking care of him. She was a Georgia peach for sure. He has no recollection of her....too bad. Mike has two Legion of Merits, the highest award for Service or Achievement in the Army, a Bronze Star, Vietnamese Cross of Gallantry, two Purple Hearts. He had 38 years of service.
Next is Robert. As of this day (July 1, 2005) Robert is on his second tour of duty for the Iraq war. He is stationed in Washington where he works in investigative services and does a lot of Homeland Security work. He is a Warrant Officer 4, a rank that is not enlisted and not an officer but denotes a highly specialized skill in the service. Robert has several Army Commendation Medals and more than 30 years of service.
Next is Patrick. Pat also recently retired with over 30 years of service. He was a Master Sergeant. Pat initially joined the Air Force (a pansy) as an Air Policeman (I believe that is what they call it). He got smart and transferred to the Army when his time with the boys in blue was up. Pat currently travels the world teaching foreign air traffic controllers how to perform their jobs better. He has developed software and Internet sites for use by the FAA and international air traffic controllers.
Our youngest sister is Martha. Martha wrote us all letters.
My goal: Among a few others, I want to be the oldest living Vietnam Veteran left, or at least make it to 100. I want to be interviewed one day and I want to say, "do not trust a politician who rattles the sword for war; do not allow the politician to take the country to war without a clamor from the overwhelming majority of Americans for war; do not go to war unless a draft is in place first (without one, there is no stake for a personal loss in the fight); and go to war only when the entire nation is willing to sacrifice the comforts we enjoy in peace.
I want my grandchildren to not have to make the choice I had to make at 18.
I want to be interred in Arlington in the same vault at the Columbarium where my parent's remains are.