I have to tell you, this was the tourist highlight of the trip. Going on a boat ride on the Can Though River to a river market that had a tradition of hundreds of years. We told the guide this was a day that made the trip into the Delta. The sights, smells, food were everything one could want as a tourist. There will be a lot of pictures here. I had a hard time eliminating them. I wish this site had smell-o-vision and sounds. What a wonderful experience for the senses.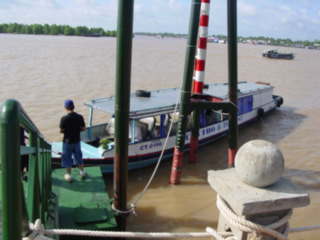 This was our tour boat. Three visitors, our guide, and the driver's family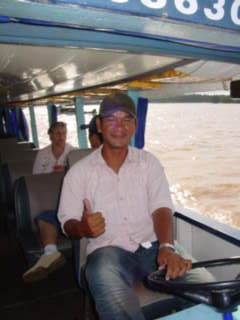 This is our driver. He spoke very good English and what he did not understand, he asked us questions as to what a word meant. He was very nice and pointed out a lot of sites. Everyone went out of their way to please, help, and inform us.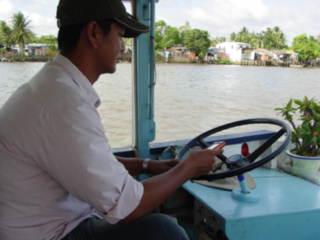 I took this picture because the driver got a phone call and was hesitant to answer it. I told him to go ahead and take or make any call. EVERYONE seems to have a cell phone and many are on the internet.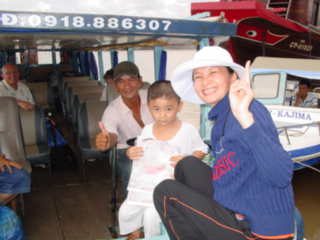 Our driver and his family. Towards the end of the boat ride, the wife brings out her boxes of robes and dresses and begins showing them to us. I didn't want to buy anything, but she was so good at it and very nice, I got a silk robe for Agnes, than I had to get something for the girls so--a traditional dress for Jennifer, Rebecca, Margaret, Emily, Betsy, Grace, Angela. I had gotten our only grand daughter a traditional ao dai outfit--pants and the top is a sort of long blouse with the shirt and what would be split at the side of the legs and flowing cover for the pants from waist to ankles.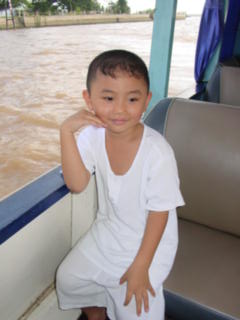 Look, children everywhere are just a like. This boy was precocious, showed out, and he let you know he was smart. He recited his ABC's and counted to ten--in English for us. His parents were very, very proud of him.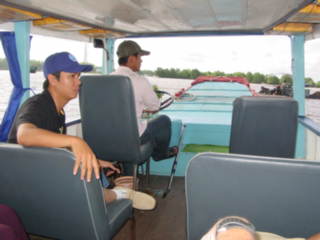 Our Guide Tran "Tony" Thaun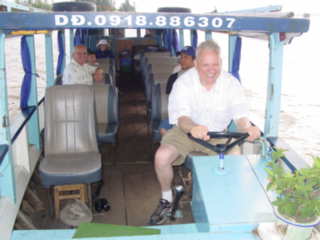 Danger, danger on the high seas...Me at the wheel.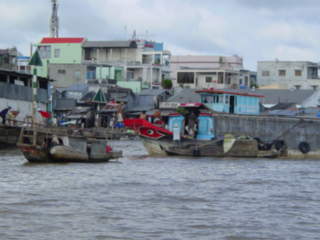 The start of the market which goes on for a solidly packed half mile or so.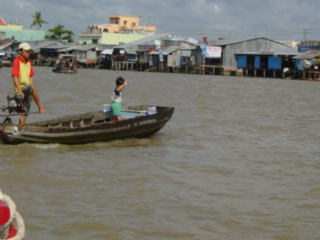 This is a drink vendor. Note the driver piloting with his feet. This is a common practice.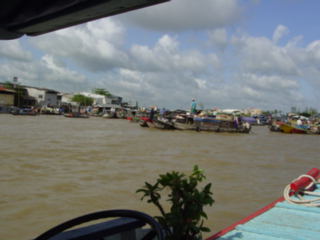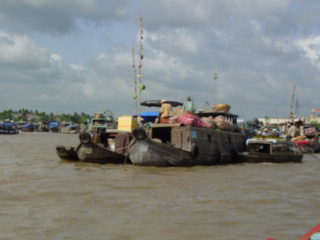 Boats of every description are in the market, but you can tell what they sell by the fruit or vegetable on the mast from the boat. Name the fruit or vegetable or other dry good and you'll find it in the market.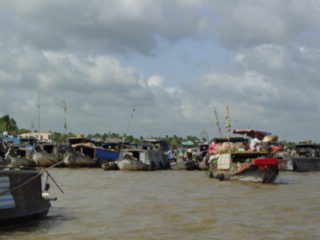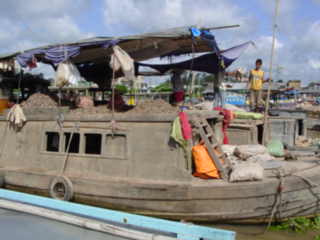 I was just enthralled by the scenery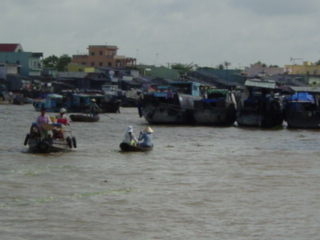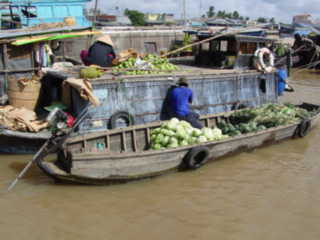 Here we see a retailer for one of the land markets buying from his "wholesaler"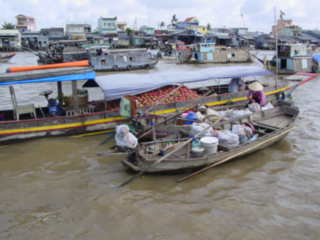 That's a boat with sweet potatoes, I believe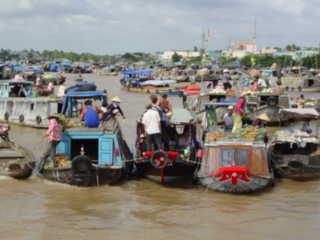 Organized chaos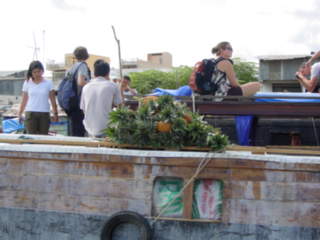 These folks were from Australia and jumped on one of the pineapple seller's boat.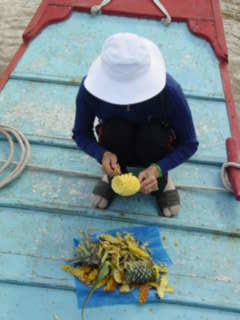 Our driver's wife peeled a pineapple, than cut swirls in it like a soft ice cream cone and then sliced it down the middle from top to bottom of stalk. We ate then like a Popsicle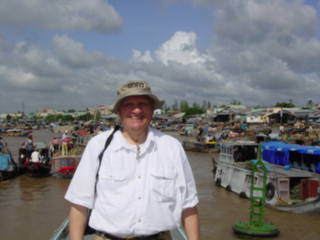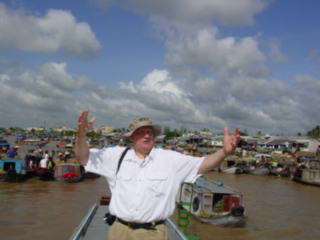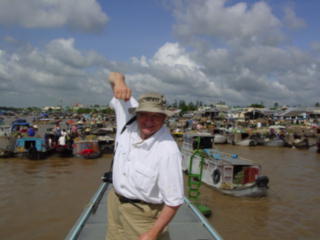 Okay. I took a regular picture with the market in the background. Then, my smart _ _ _ brother says, "Why don't you give a politician's pose?" So in the middle picture I am asking for a vote promising two motor scooters for every family and in the third one, I am exhorting the population to increase sales taxes.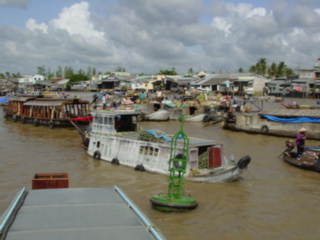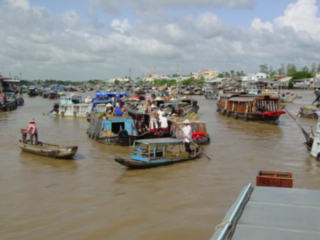 The Market.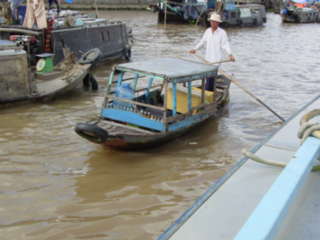 Here comes a drink vendor with soft drinks, bottled water, and beer. Guess which one we bought. It was a hot day.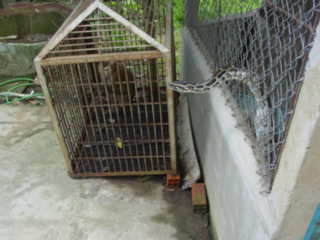 We stopped at a private zoo, similar to our roadside "See the amazing alligator wrestle a mere mortal" I really did not like this part as I do not like seeing animals penned or chained like this. BUT, I could not resist taking a picture of this snake coming out of its cage almost on cue as we passed to menace the caged monkey.